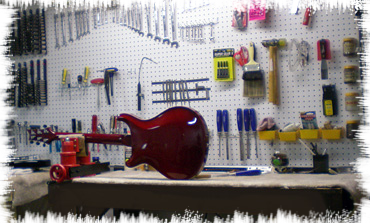 The Guitar Bench
In the early 1990's, Colin started touring with various bands as a guitar tech. Then in 1993 he opened Colin's Guitar Works located in Nashville, TN. In 1995 he spent a year working for Gibson Guitars with the original team of luthiers that set up Gibson's first in-house warranty repair department.
By the year 2000, Colin had an extensive client list of touring bands, local studio musicians and guitarists and collectors from around the nation. In 2005, he relocated his guitar bench to Northern Virginia where he continues to watch a parade of instruments pass through his shop.
If you're in need of a basic set-up, emergency repair, vintage restoration or anything in between…
Estimated Costs of Services
Guitars will need to be inspected to give an accurate quote.
Minimum Bench Fee: $25
Set-ups, $75 and up
Guitar/Bass, Electric/Acoustic

Does not include strings.
Neck removal for truss-rod adjustment: Add $10
Non-locking tremolo bridge: Add $10
Locking tremolo bridge: Add $25
12-string: Add $25

Fretboard Repairs

Level and dress frets: $150
Re-fret: $400 (and up)
Re-fret with binding: $450
Partial re-fret (first fret): $80; $50 each additional fret
Repair fretboard chips, cracks, etc.: starts at $45

Headstock Repairs

Simple Re-glue: $175 (finish touch-up and reinforcement splines extra)
Replace Tuning Machines: $50 (does not include set-up or filling old screw holes, etc.)

Neck Repairs

Truss Rod Adjustment: $15
Custom Made Nut: $90 (and up)
Install Strap Button: $20
Acoustic Guitar Services
Bridge Repairs

Re-glue bridge: $80
Repair bridge cracks: $35
Custom made bridge: $190
Repair worn bridge pin holes: $40 each

Saddle
Electronics

Install pick-up: starts at $75
Route saddle slot: $100
Install pre-amp/volume pot: $50

Soundboard

Bridge plate repair (rosewood or maple patch): $150
Bridge Plate Replacement: $350
Re-glue braces: starts at $75
Repair cracks: starts at $75; $10-$20 per inch.
Electric Guitar Services
Electronics

Complete re-wire: $95
Install one component (pot, switch, jack, etc…): starts at $30
Install pick-up: $50
Route pick-up cavity: starts at $75
Wax potting of pick-up: $30 (does not include removal & re-installation)